The Weeknd (A.K.A Abel Tesfaye) is a Canadian R&B singer, producer and songwriter. He has worked with Daft Punk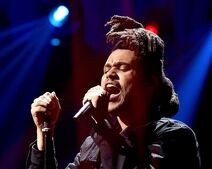 on 2 occasions so far, both songs ("Starboy" and "I Feel It Coming") are apart of his album "Starboy" (Released: November 2016). Many criticized the French music duo for now making a big enough apperance in either of the songs.
Early Career (2010-2012)
Edit
Abel began his singing career when he created a YouTube channel in early 2010 under the name of "TheWeeknd". He anonymously posted his own original songs and continued to do so until 2012 when he released an album of his most popular songs, named Trilogy.
Ad blocker interference detected!
Wikia is a free-to-use site that makes money from advertising. We have a modified experience for viewers using ad blockers

Wikia is not accessible if you've made further modifications. Remove the custom ad blocker rule(s) and the page will load as expected.