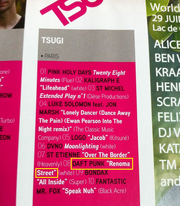 Renoma Street was a song hoax made by the French magazine "Tsugi". The magazine included the track Daft Punk "Renoma Street"(white) on their monthly playlist in issue 53 of 2012. This was in the time period where Daft Punk had very little public activity and Random Access Memories had not been announced, but was rumored to be happening. When fans spotted this inclusion, they reached out to the magazine to find out what this was. An editor from Tsugi answered in a tweeting a date of "21/7", claiming it would be released the 21st of July. Renoma Street is apparently the name of the cafe in Paris – it's thought that the track might even be featured on the free CD in next month's issue of the magazine.[1] Some thought it might be a previously unreleased Demo track, like Soma's recent release of "Drive". The rumor then picked up steam and began to be reported on my several news outlets.
In the first week of July, Tsugi officially announced that it was a hoax intended to be a "little joke" from the editors.
"A pure creation, making fun of all the madness surrounding every (mainly false) news concerning the two robots."[2]
Negative reactions from people spread wildly across social media, angry at the magazine for starting the hoax and even feeding into fan's reactions to it.
References
Edit