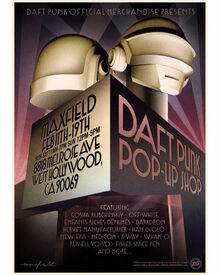 On February 7th, 2017, Daft Punk announced via Instagram that they were launching an LA Pop-Up shop as a prelude to their appearance at the 59th Annual Grammy Awards. The store was located at the luxury boutique Maxfield, in Los Angeles and was open from February 11th to the 19th.
Daft Punk teamed up with various designers – including Off-White, Darkdron, Herve Manufacturer and Enfants Riches Deprives to create "limited edition apparel and accessories" for the shop. There was also items made by Daft Punk Official Merchandise specifically for the store, as well as a selection of material that was currently on sale via the online shop. In addition to the items for sale, the Pop-Up was also a museum exhibition, showing "a retrospective of archival set pieces, props, wardrobe, artwork, photography and robot helmets." [1]
At the VIP Launch Party for the event, Daft Punk attended unmasked while celebrities visited, shopped, and took photos at the event. Electronic DJ Mija ran the music bulk of the party, and Skrillex performed an hour-long DJ set.
"The patrons purchased items throughout the four-hour event. Drinks were served and a food truck was on hand in an outdoor space, where Homem-Christo spent much of the night conversing with partygoers in a black suit and brown dress shoes, his face consumed by an oversized pair of sunglasses. Bangalter, similarly clad in a black suit over a black T-shirt, spent much of the evening inside, where patrons including Elijah Wood and Travis Barker waited on line to buy merchandise.
It was a lightly star-studded event — Ciara and Russell Wilson stopped by to snap pics of the Daft Punk mannequins before leaving early, while the Weeknd made a brief cameo — though the party was mostly filled with industry types and VIPs."[2]
---[Insert Open Source Images at the Pop-Up in a Gallery Format]---
References
Edit
Ad blocker interference detected!
Wikia is a free-to-use site that makes money from advertising. We have a modified experience for viewers using ad blockers

Wikia is not accessible if you've made further modifications. Remove the custom ad blocker rule(s) and the page will load as expected.