Random Access Memories
Talk

0
123pages on
this wiki
Random Access Memories



Released

May 21st, 2013

Recorded

late 2010- early 2013

Genre

House

Length

74:24

Label

Columbia Records

Producer(s)
Random Access Memories is the fourth studio album from the French electronic duo Daft Punk, released on May 21st, 2013. The album has been awaited since Daft Punk finished their Alive 2007 tour and so the release of the Tron: Legacy Soundtrack in 2010. Guy-Manuel de Homem-Christo confirmed that the album will be released through Sony Music's subsidiary label Columbia Records after the break with Virgin Records, which they have been since 1996.[1]
On March 23rd, 2013, iTunes released the album to the public for pre-ordering, confirming the untitled 13-tracks included in the record, and also a release date, with the final version of the album title.[2] It is known that artist such as Nile Rodgers, Paul Williams, Chilly Gonzales, Giorgio Moroder and the bassist Nathan East are confirmed to collaborate on the album. [3]
The title itself is a reference to the computer hardware RAM.
Confirmation
Edit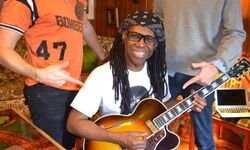 Prior to the release of Tron: Legacy Soundtrack, the composer Paul Williams stated that he was working with the band in an interview with Eddie Muentes.[4] In another one with Tracey Jackson, he confirmed once again his work, specifically working on the writing of some songs.[5]
In February 2012, Nile Rodgers, in an online interview, said that he was going to meet Daft Punk in his apartment in New York to discuss the duo's new album.[6]
Chilly Gonzales was later confirmed to have collaborated with the band on the project, while it has been said that Panda Bear has as well.
In May 2012, in an interview with the Italian artist Giorgio Moroder he said he was working with Daft Punk in Paris. Moroder stated:
"Thomas wanted me to talk about my life, and I said 'And what are you going to do with it?', and he [Bangalter] said 'Oh you just talk and we are going to snip it in the stuff'. So I came to Paris in the studio and he had three microphones to record me, they were different microphones, and I said 'Why do you have three? Is not one enough?' and then he said 'This one in here -a very old microphone of the '60-, if you talk about your life around the '60, this is how the microphone is going to sound. Then, if your going to talk about the '70, you have the second microphone'. And then I asked the sound engineer, 'Is anybody ever, be able to distinguish the different sounds?', he said 'No', then I replied 'Then why?' which he responded 'Well, he knows the differences.'"[7]
On Feburary 26, 2013, Daft Punk updated their website with a new image, confirming a new album and collaboration with Columbia records.
On March 2, 2013, Daft Punk released a 16 second teaser through a Saturday Night Live advertisement.
On April 11, 2013, Daft Punk played a teaser for their 4th album at Coachella, confirming that Panda Bear, Julian Casablancas, Pharrell, and others are working on the album.
On April 13th, 2013. A minute long teaser aired during SNL. Similiar to the Coachella teaser.
On April 19th, 2013. "Get Lucky" was officially released and available on many platforms such as iTunes.
On August 13th, 2013. "Lose Yourself to Dance" was officially released.
Standard edition
No.
Title
Length
1.
"Give Life Back to Music" (feat. Nile Rodgers)
4:34
2.
"The Game of Love"
5:21
3.
"Giorgio by Moroder" (feat. Giorgio Moroder)
9:04
4.
"Within" (feat. Gonzales)
3:48
5.
"Instant Crush" (feat. Julian Casablancas)
5:37
6.
"Lose Yourself To Dance" (feat. Pharrell Williams and Nile Rodgers)
5:53
7.
"Touch" (feat. Paul Williams)
8:18
8.
"Get Lucky" (feat. Pharrell Williams and Nile Rodgers)
6:07
9.
"Beyond"
4:50
10.
"Motherboard"
5:41
11.
"Fragments of Time" (feat Todd Edwards)
4:39
12.
"Doin' It Right" (feat Panda Bear)
4:11
13.
"Contact" (feat. DJ Falcon)
6:21
Total length:
74:24
Japan bonus track
| No. | Title | | Length |
| --- | --- | --- | --- |
| 14. | "Horizon" | | 4:24 |
Speculation
Edit
Many speculated that Daft Punk would probably release their new album on Sep. 9, 2009 since Thomas Bangalter once commented that they had an accident with their sampler on "Sep. 9, 1999 at 9:09 am". This is also seen on their song title Revolution 909. Some rumors have shown on the Electroma's Opening Night in Paris, that Daft Punk will start recording of the album after their Alive 2007 tour. Guy-Manuel de Homem-Christo simply commented it with a "hushhhh"[9]. On May 28, 2008, Busy P, former manager of Daft Punk, in an interview with Australian music magazine In The Mix, revealed that Daft Punk were currently in the studio. He later took back the remark, however, stating that he had been mistranslated.[10].
No such album was released on the date leaving many to assume that the album rumored was Tron Legacy Soundtrack, released on December 7, 2010. Recording had begun the same year. [11] Another date that was speculated was November 11, 2011. Thus nothing was revealed, the home page of Daft Punk website was updated with nothing but the Daft Punk logo in red, most rarely, with a TM aside. Also, the daftalive.com website was inaccessible from January to July 2012. The most recent speculation was about "single" from the acclaimed album would be released on the 21st of July. The single would supposedly be released under the name of "Renoma Street". These rumors raised from an issue of "Tsugi", A French magazine, where "Daft Punk - Renoma Street" appeared in a list of songs. The suppossed song was later revealed to be "a little joke" from the editors, disappointing many fans, and ending a hype. The magazine later received bad reception after making the "joke".[12] When going on to daftpunk.com from November 11 to 13, 2012, you would receive a banner stating the website is under construction. The website has since been returned to view, with a look identical to the 2011 update. Since early February 2013, if you are to visit the Daft Punk website, the image on the site has changed from the simple band logo to a new image of the two iconic helmets that confirms the move to Columbia Records.
The first single from the album, "Get Lucky" was released on April 19th, 2013, on iTunes and Amazon.
Collaborators
Edit
Following artists were collaborating with Daft Punk for Random Access Memories[13][14][15]:
| Artist | Type |
| --- | --- |
| Giorgio Moroder | Italian record producer, songwriter and performer. |
| Nile Rodgers | American musician, producer, composer, arranger, and guitarist. |
| Paul Williams | American composer, musician, songwriter, and actor. |
| Chilly Gonzales | Canadian musician, pianist, producer, and songwriter. |
| Panda Bear | American experimental musician and a founding member of Animal Collective. |
| Nathan East | American bass player and vocalist. |
| Pharrell Williams | American rapper, record producer, and a founding member of N.E.R.D and The Neptunes. |
| Todd Edwards | American house and garage producer. |
| DJ Falcon | French DJ and record producer. |
| Julian Casablancas | American musician, singer, songwriter, and frontman of The Strokes . |
| John "J.R." Robinson | American drummer and session musician. |
| Omar Hakim | American jazz, jazz fusion and pop music drummer. |
| Paul Jackson Jr. | American fusion/urban jazz composer, arranger, producer and guitarist. |
| Quinn | Drummer and percussionist.  |
| Chris Caswell | American keyboardist. |
References
Edit
External links
Edit