Derezzed
Talk

0
123pages on
this wiki
Derezzed is the 13th track on the Tron: Legacy Soundtrack, following End of Line and preceding Fall. It was the first full Tron: Legacy song released to the public, released as a single on October 26, 2010. It has two music videos- the promotional video for Tron: Legacy, showcasing the song over clips from the movie, and the official Daft Punk video, released later. The song is used in a couple of Tron: Legacy commercials, including a Coca-Cola ad appearing in movie theaters. The song has also become popular to play on sports channels and in stadiums.
Appearance in the film
Edit
The song plays at the End of Line Club, in which Daft Punk are the DJs, when Castor turns against Flynn and a fight starts. The song immediately stops when Kevin appears and shuts the power off for a moment, and then the song is changed to Fall.
The song is named after the term "Derezzed", a euphemism for death in the Tron world.
Music videos
Edit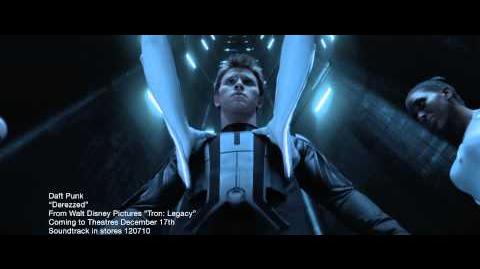 Derezzed's debut came with a promotional video for the movie, featuring clips from the movie, and the first look at Daft Punk's cameo in the film.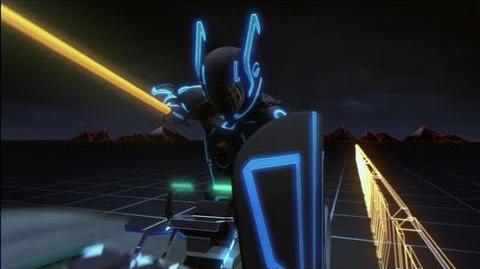 An offical music video also exists, which begins with Daft Punk walking into Flynn's arcade and booting up an arcade game called "DEREZZED". The song starts up as Daft Punk play against each other in a Tron jousting match. The red player wins, and takes off his helmet to reveal that she is the character Quorra from the movie. The video was designed to merge the world of Tron: Legacy and the original Tron.
Reconfigured
Edit
Derezzed is remixed twice on Tron: Legacy RECONFIGURED, by The Glitch Mob and Avicii.