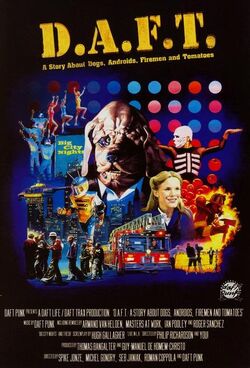 D.A.F.T. - A Story About Dogs, Androids, Firemen and Tomatoes is a video collection created by Daft Punk that was released in 1999. It features music videos for Around the World, Da Funk and Fresh, Burnin' and Revolution 909. Although its title derives from the appearances of dogs, androids, firemen and tomatoes, there is no solid plot bonding any of the episodes.
Ad blocker interference detected!
Wikia is a free-to-use site that makes money from advertising. We have a modified experience for viewers using ad blockers

Wikia is not accessible if you've made further modifications. Remove the custom ad blocker rule(s) and the page will load as expected.