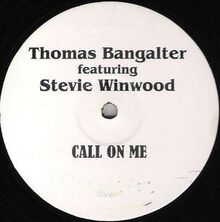 Call On Me is a song made by Together, which is comprised of Thomas Bangalter and DJ Falcon.
Call On Me was originally made by Thomas Bangalter (half of Daft Punk) and DJ Falcon. Thomas Bangalter and DJ Falcon typically would only play it during live sets, despite demand to release it. Eric Prydz heard it, made it himself, and had Steve Winwood redo the vocals. Thomas Bangalter later states that he regrets not officially releasing the song. Multiple white label releases were made of it.
Ad blocker interference detected!
Wikia is a free-to-use site that makes money from advertising. We have a modified experience for viewers using ad blockers

Wikia is not accessible if you've made further modifications. Remove the custom ad blocker rule(s) and the page will load as expected.