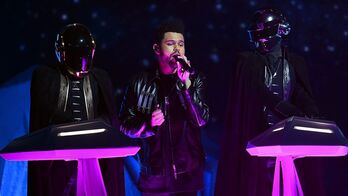 Daft Punk appeared at the 2017 Grammy Awards, alongside The Weeknd. Daft Punk performed their collaborative tracks "I Feel It Coming" and "Starboy" with the Weeknd—their collaborative tracks from 2016's Starboy.
The performance began with Daft Punk emerging from a walkway, on a set that looked like a combination of Superman's Fortress of Solitude and Star Wars' Planet Hoth. The two placed a glowing violet crystal they were carrying into a container, closing it shut, queueing for The Weeknd to begin singing. Daft Punk then took their places at two mixing tables to mix the song.[1]
References
Edit
Ad blocker interference detected!
Wikia is a free-to-use site that makes money from advertising. We have a modified experience for viewers using ad blockers

Wikia is not accessible if you've made further modifications. Remove the custom ad blocker rule(s) and the page will load as expected.